McCombs combines its rigor with a passionate community. To create its desired community, it seeks a student body that is diverse in every dimension and comprises individuals who can bring together their varied voices to form a cohesive group. The questions below reflect this value; they draw out applicants' individuality, motivations, and ability to collaborate, while also addressing the practical matters of goals and why you are seeking an MBA at McCombs.
1. Introduce yourself. Select only one communication method that you would like to use for your response.
• Write an essay (250 words), OR
• Share a video introduction (one minute)
First, choose from the two options – for the purpose of self-introduction, which medium is the most natural for you? That is the one you should use – both are equally good. Next decision: out of the universe that is you, what to say? I suggest a combination of distinctive professional and non-work points to reflect well-roundness – points that show the adcom what you'll "bring to the table." Another effective approach is to focus on one key event or experience, if that one element bridges your work and non-work spheres. Both communication options require brevity, so focus on the essential.

2. Picture yourself at graduation. Describe how you spent your two years as a Texas MBA student, and how that experience helped to prepare you for the post-MBA world. (500 words max)
The key here is to show that Texas McCombs is the right program for you, professionally and personally, that you understand the program, and that you have a plan to use its resources productively. It will be most efficient and (for most people I think) intuitive to start with the last part of the question first: where you are at graduation, in terms of imminent job – what position, what company, where geographically, what you will be accountable for. Because your post-MBA job will be the first step on a career path, you could also refer briefly to how you expect your career to evolve.
With that established, in the rest of the essay envision your time at Texas – in very specific terms. For example, since you are starting X job, describe what academic coursework (including electives) prepared you, and highlight other aspects of the academic program as relevant. Also, note activities that contributed to your goals, such as study groups, clubs, etc. Finally, consider adding some insight into the personal growth you gained while at Texas and how this prepares you for the "post-MBA world".
3. Optional Statement:

Please provide any additional information you believe is important and/or address any areas of concern that will be beneficial to the Admissions Committee in considering your application (e.g. unexplained gaps in work experience, choice of recommenders, academic performance, or extenuating personal circumstances). (250 words)
I encourage you to write the optional essay. Just make sure you are submitting an informative optional essay that complements the required essays and adds to the reader's knowledge of you and your qualifications. If you do not have "an area of concern to address," this optional would be a great place to explore a non-professional interest or commitment of yours not addressed in your application. As always, if you have nothing to say, don't say anything.
If you would like professional guidance with your University of Texas McCombs MBA application, please consider Accepted's MBA essay editing and MBA admissions consulting or our MBA Application Packages, which include advising, editing, interview coaching, and a resume edit for the McCombs MBA application.
UT McCombs MBA 2017-18 Application Deadlines: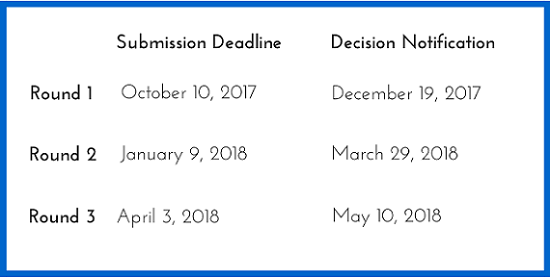 ***Disclaimer: Information is subject to change. Please check with individual programs to verify the essay questions, instructions and deadlines.***
Cindy Tokumitsu has advised hundreds of successful applicants, helping them gain acceptance to top MBA and EMBA programs in her 15+ years with Accepted. She would love to help you too. Want Cindy to help you get Accepted? Click here to get in touch!
Related Resources:
• Haas, McCombs, and Case Interviews, a podcast interview
• Which B-School is the Best for You?
• Tips for Video MBA Essay Questions
This article originally appeared on blog.accepted.com.
Applying to a top b-school? The talented folks at Accepted have helped hundreds of applicants get accepted to their dream programs. Whether you are figuring out where to apply, writing your application essays, or prepping for your interviews, we are just a call (or click) away.
Contact us, and get matched up with the consultant who will help you get accepted!