Yes, we know…the deadline seems really far away right now. But think about how much you have on your plate already. Think about how quickly weeks and months can pass. The deadlines will be here faster than you realize.
Don't be caught unprepared.
Now is the time to develop a plan of action and a cohesive strategy for executing the perfect application.
If you take a little time to plan out the next few months, you'll find that when the applications come out, you'll be ready to knock them out of the park.
Competition for the top MBA programs is fierce, and you need to do whatever you can to gain an edge.
Join us for our webinar, 7 Steps to MBA Acceptance in 2021, and stay steps ahead of the competition.
This expert guidance is offered to you cost-free, but you do need to reserve your spot. Register today!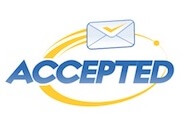 For 25 years, Accepted has helped business school applicants gain acceptance to top programs. Our outstanding team of MBA admissions consultants features former business school admissions directors and professional writers who have guided our clients to admission at top MBA, EMBA, and other graduate business programs worldwide including Harvard, Stanford, Wharton, Booth, INSEAD, London Business School, and many more. Want an MBA admissions expert to help you get Accepted? Click here to get in touch!
This article originally appeared on blog.accepted.com.
Applying to a top b-school? The talented folks at Accepted have helped hundreds of applicants get accepted to their dream programs. Whether you are figuring out where to apply, writing your application essays, or prepping for your interviews, we are just a call (or click) away.
Contact us, and get matched up with the consultant who will help you get accepted!