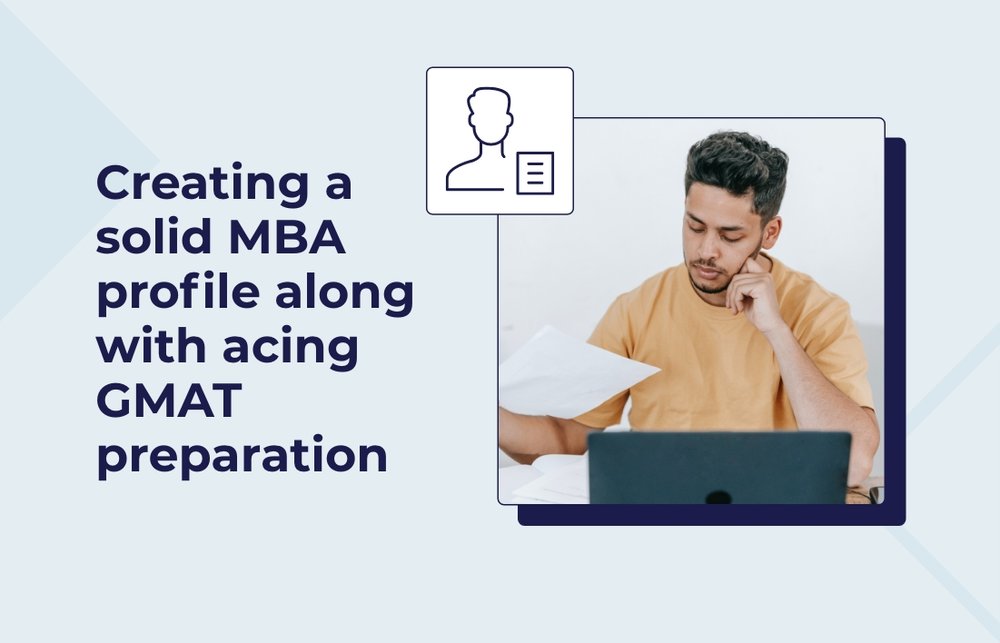 With just a few months left for the first round of September intake 2023, it's time you have a proper strategy built around your GMAT scores and MBA applications in order to back your otherwise stellar profile (yes, we already believe you have amazing stories out there!). With the pace at which the MBA deadlines are approaching, you will never realize how the days pass by when you drench yourself completely in the application process.
Hence, we at MBA and Beyond are determined to assist you in your quest for top B-Schools by helping you prepare a strong MBA application strategy as you are working on your GMAT preparation. Almost, every MBA candidate knows the importance a GRE or GMAT score holds as a part of their B-school admissions process. However, not everyone is able to comprehend how one should fit their GMAT scores into their overall MBA application strategy.
This article will help you prepare a strong MBA application strategy based on some of the most successful methods to boost your application along with your GMAT score.
Moreover, to assist you further, our experts are talking about strengthening your MBA applications while you are working on your GMAT preparation in this coffee session. You can watch it here-
Let's brainstorm and strategize how can a perfect strategy help ace your MBA application process!.
1. I am planning my MBA applications in 1-2 years from now, when should I take my GMAT?
As both the GRE and GMAT scores are valid for five years, it's always better to get it out sooner than later after your undergrad (if you are pretty sure of going for MBA/masters in near future). Since it requires a hefty amount of study & practice, and 2-3 years into your job, it becomes harder to cut time. Therefore, getting it out of the way early frees you to focus on the other crucial elements of your MBA application.
Suggested Reading: Average GMAT scores for top MBA programs - US, Europe, Canada
2) I am planning my MBA applications in 3-4 months from now, when should I start working on my applications?
Now you may think how can we build an application strategy around GMAT? Well, we all are aware of how a GMAT score affects your admission to top B-Schools. However, it's also crucial to understand that your reach to schools depends on your GMAT range. If somehow, you bomb the GMAT exam with less time left for a retake, you may need to reassess your target schools to include the ones which are less competitive.
Conversely, if you are able to score 30 points more than the expected GMAT range, you may be able to add more reach schools to your list. (Having said that, your MBA application is much more than your GMAT score and this is exactly why we are talking about working and strengthening other parts of your applications during your GMAT preparation, in our coffee session, to make sure that you don't depend on one aspect entirely. Almost all our success stories are a testimony to this approach).
If you get a stellar GMAT score, (congratulations!), you are one step closer to your dream school. However, what if, unlike top applicants, you bombed the tests and realize that you didn't have the foresight to make a backup plan in such drastic circumstances. The next best step would be to prepare for a retake. However; a lot depends on the timeline of your applications and rounds, stamina, and work-life balance. For someone, wanting to apply in the round one itself, with 10-20 points lower than expected, and with an otherwise stellar profile, reluctant of taking a retake, we typically advise them to change the strategy as your GMAT score may be an integral part of the admissions process but isn't everything.
Moreover, With the average GMAT scores increasing every year for top MBA programs, it is getting harder every day to offset a bad GMAT score. Just rationalizing your low score with a long written piece of the essay won't do much good. In contrast, what you could really do is acknowledge the score and write saying that you don't find it truly reflective of your abilities.
Look how you can address your Optional essays if you have a low GPA or GMAT.
Then, of course, you need to showcase examples of academic brilliance by pointing at college GPA, relevant certifications, and work experience, or by encouraging your recommenders to focus heavily on your intellect in your LORs.
But the above can only happen if you plan your applications right. Timing and proper planning are crucial to reducing the stress of the application process and avoiding the last minute of putting together an application. Having a plan in hand helps you tackle different cases, in case, your GMAT score does not come as planned. Trust us, it has happened with a lot of our applicants but only because they started early and we already worked on their application strategy, we could navigate through it with flying colors.
With the round one deadline in less than five months, you need to reassess the situation to plan accordingly as you have a lot of work ahead of you! We advise applicants to start working as soon as they can and not to try and cram everything into a timeline that's too short. It helps give them the breathing space to plan the applications right and the strategy can be entirely different for everyone. So, it's crucial to figure out what makes the most sense for you, your application, your goals, and your schedule.
Suggested Reading; How to strengthen your MBA application for Round 1 MBA?
Strategies to maximize your chances for Round 1 MBA
But no matter what, we are here with you through thick and thin. If you'd like, you can discuss your application strategy with our Profile evaluation experts in a 1:1 session.