Earning an MBA degree from a top B-school is already an achievement, but most applicants dream of pursuing an MBA from Harvard, after all, due to its reputation and advantages. Harvard allows everyone to choose when to pursue the MBA in their preferred timeline. And this time, we are going to stress the topic HBS 2+2 program.
This article will give in-depth information about HBS 2+2 program, including its advantages, application requirement, eligibility, class profile, deadline, and so much more.
If you'd like personalized, honest, and in-depth feedback on your profile and essays to understand which program fits you, then feel free to book a 1:1 Profile evaluation with our profile experts (students and alums in the top 10 B-Schools).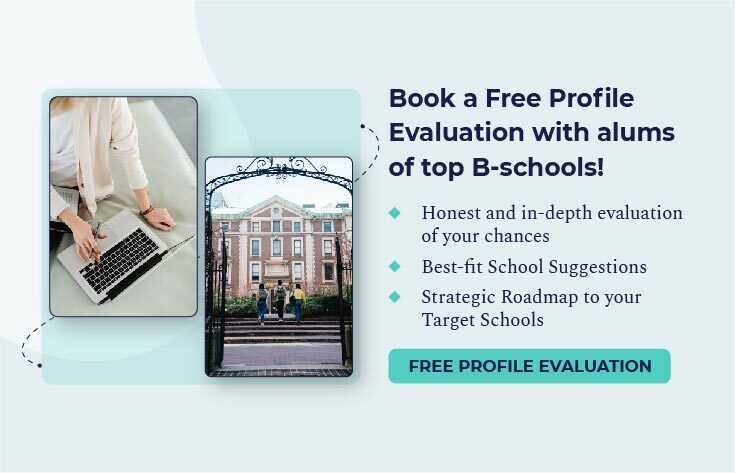 Quick Snapshot
What is the Harvard 2+2 Program?
If you want to apply to HBS on a specific timeline, then Harvard 2+2 allows you to enroll in their program. It is 2+2 because the most common path is to spend two years in the corporate (the minimum requirement) before enrolling in HBS's two-year MBA. Students are allowed to spend more than two years but less than four years to b eligible for their program.
During the first semester of the HBS MBA, all students have the same core curriculum courses. These courses will focus on finance, leadership, and marketing. In the second semester, students can take strategy, international economy, and corporate accountability classes.
During the third semester of the HBS 2+2 program, Students will choose specific analytical and quantitative skills while also becoming acclimated to MBA Program standards of communication and collaboration.
Who Attends the Harvard 2+2 Program?
Students applying to Harvard 2+2 must be in their final year of studies, but it is not only for undergraduates. A student graduating with a master's degree can also apply to the program.
However, applicants cannot have any work experience (other than internships) to qualify for the 2+2 program. The Harvard 2+2 program is designed for graduating students without extensive work experience.
If you'd like personalized, honest, and in-depth feedback on your profile, feel free to book a 1:1 Profile evaluation with our profile experts (students and alums in the top 10 B-Schools).
Advantages for different socio-economic backgrounds
Good news for students from a lower socio-economic background or first-generation college graduates in their families as they seek students with non-traditional academic backgrounds. They have not provided any specific data on their class profile.
Application Requirement
The application fee is $100
You need to submit a TOEFL, IELTS, or PTE score if you are an international student

Submit your test scores like GMAT or GRE before the deadline

Letter of recommendation

Official Transcripts

Essays
Suggested Readings
Class Profile
| Factors | Number |
| --- | --- |
| Application submission | 1577 |
| Number of enrolled students | 129 |
| Countries Represented | 17 |
| International Students | 25% |
| Average GMAT | 730 |
| GMAT range | 580-790 |
| Average GPA | 3.79 |
| TOEFL | Above 109 |
| IELTS | 7.5 |
| PTE | Above 75 |
Source: https://www.hbs.edu/mba/admissions/class-profile/Pages/default.aspx
Application Deadline
Application Submitted Online: 27 April 2023
Notification Of The MBA Admission Board's Decision: 29 June 2023

This is it from our side. We hope you can gain some insights about Harvard 2+2 program. If you need an upper hand to discuss in depth about your application, our team is always there to show you the right direction.
We offer a limited number of complimentary profile evaluations each week. We match you with the students and alums of top B-Schools according to your background and target schools.
In this call, the experts will try to dig out your USP for top B-schools and provide you with honest feedback on your profile and chances to your target schools.