Schools are looking for applicants who can show that they have strong leadership qualities and experiences and can demonstrate that they will actively contribute to their student/alumni communities, not to mention to the greater community and society.
Many applications include an essay question with some variation of "what would you contribute to your future campus community?" or "how will you contribute to our program?" If you are invited to interview, it is likely that you'll be asked how you will contribute to your school/college/university, so this a topic where preparation is vital.
You will need to present your best self, yet grandiose, declarative statements and promises to be a superlative do-gooder are unpersuasive and sometimes off-putting. So how can you show you are a candidate with plenty to contribute and a future asset to your chosen school?
Need help proving that you'll contribute in the future? Work on your application with an admissions expert! >>
Point to the past as a forecast of the future
Most admission committees are firm believers that past behavior reveals abilities and interests and is a good predictor of the future.
Here are four tips to highlight your impressive past and help you relay the message that you plan on achieving greatness by contributing to your school/community/world-at-large.
Share the story of past achievements and quantify if possible the impact you had

By showing how you've already contributed, you demonstrate that you have the initiative, people skills, and organizational talent to make an impact in the future. If you can select a contribution that is related to your chosen field or school, so much the better. Perhaps your past contribution is part of an ongoing program or a recurring event that you intend to continue with in the future. This will show the adcom that your achievements are not one-offs; you can demonstrate your commitment, as well associating your worthy contributions with their school.

Discuss skills you've developed that will aid future contributions

You can show the adcoms that you're prepared to give back by proving that you have the appropriate skills and the tools needed. Use evidence to support your skill development by talking about how you've worked to build your skill set (by taking a course or through work experience, etc.). Analyze your success to reveal that you are a thinking, growing, dynamic individual. And when asked about failures or setbacks, discuss what you learned from the tough times. Demonstrate a growth mindset.

Show how your skills are transferable

To contribute to your classmates or school, you'll need to show how your unique talents or experiences can be shared with your classmates, professors, or work colleagues. Talk about how your skills, understanding, and ethics can impact those around you. Even seemingly unrelated skills can be transferable to your target program; every past achievement has skill elements that can be highlighted and applied to future contributions.

Mention how your target school will help

Now the adcom readers know that you've got skills and that you're ready to share them. Next, you need to reinforce the idea that their school is THE PLACE to accelerate your upward trajectory. Highlight any overlaps in the ethos of the school or the course curriculum that will advance your skills in the future. And it works both ways: point out that just as the school helps further your skills, you as one of their contributing alumni become a future ambassador for their school.
A good essay on your contributions will cover each of the above topics – what you've done in the past, how you've developed your skills, how you plan on sharing that knowledge, and how your target school will help you effect change. Remember, the past reveals much about the future, so share the story of what you've done and how you've reached this point and you'll be well on your way to proving that you've got what it takes to contribute in the future.
Are you ready to prove how you can contribute? Accepted's expert consultants know just how to help you identify which experiences and skills you need to highlight to show what you can bring to the table. Check out our one-on-one admissions services so you can ace your application and GET ACCEPTED!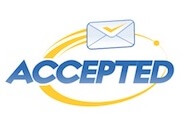 For 25 years, Accepted has helped applicants gain acceptance to top undergraduate and graduate programs. Our expert team of admissions consultants features former admissions directors, PhDs, and professional writers who have advised clients to acceptance at top programs worldwide including Harvard, Stanford, Yale, Princeton, Penn, Columbia, Oxford, Cambridge, INSEAD, MIT, Caltech, UC Berkeley, and Northwestern. Want an admissions expert to help you get Accepted? Click here to get in touch!

Related Resources: