The World's Best Online Course
e-GMAT celebrates a major milestone this week – 1500 kudos and 135 reviews on GMAT Club.
Now get the world's best line course at an incredible price of $199 - a 65% discount over the list price. The course now includes 7 mock tests,  4,000 questions, all the instruction that you need for GMAT Verbal as well as Integrated Reasoning combined with the world's best analytics. The best thing – the course comes with mocks and GMAT Club tests ($250 value). To make the deal even sweeter, we have also included GMAT Verbal Workshop ($49 value) in the course.
Whether you are someone who is looking to jump start his/her preparation or someone who is looking to boost his/her score 10 days before the exam, this course will get you there with 50+ hours of effort. Check out our success stories for evidence of past success. Here are some key features of the course.
Competitive Comparison
Key Features:
Completely online, accessible from anywhere:
The e-GMAT courses are accessible from anywhere as long as you have internet connection with speed128Kbps or higher.
100+ hours of instruction covering all aspects of GMAT Verbal: Verbal Online includes our Sentence Correction, Critical Reasoning, Reading Comprehension and Integrated Reasoning eLearning courses and 1 year of 800score membership including 5 full length mock exams.
Most updated course:
Heard about the new "meaning based question-types" on GMAT Sentence Correction? Well it was not new for e-GMAT customers. The e-GMAT course had 33 such questions in August 2010 itself since our course was based on OG 12 and not on an older incarnation. We continuously update our course based on the updates from GMAC so you can be rest assured that you study from most relevant material.

Proper practice makes you perfect. The course provides you ample practice on the entire GMAT curriculum. And these are "gmat like questions" that you can take any time as per your convenience.
Foundation concepts:
You need a solid foundation if you plan to attain new heights on GMAT. To help you master these key skills we have designed concepts such as Sentence Structure, Logical Structure of arguments, & Pre-thinking for assumptions.
Learn from full time instructors:
Helping you succeed on GMAT is all we do. So when you work with us, you can be rest assured that you will be working with someone who is dedicated to your success. How does this make a difference in your prep– ask our customers who have interacted with us
and you will know.
Hassle free return policy:
We are a small company and we like to keep things simple. If you don't like our course, let us know and we will refund the money to you, as long as you have attempted less than 33% of our course. We are reasonable people and don't want your money if you don't like our product.
More Successful in Helping Non-Natives Succeed

More non natives succeed using e-GMAT's courses than do using courses from all other test prep companies combined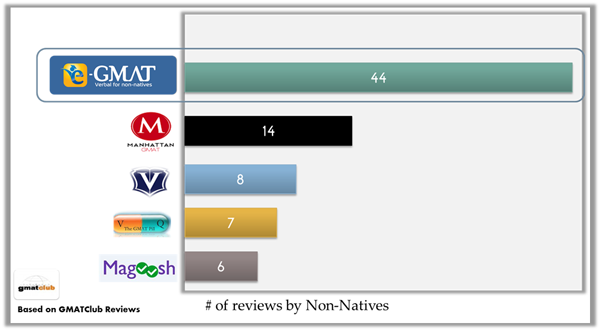 Testimonials
Sumeet Vatsav (730, V39): "E-GMAT is blessing. Loved it! They cleared my -Ing modifier dilemma and As vs Like curse. Please give standing ovation to Rajat, Payal and the E-gmat team!" Click here to view his debrief on GMATClub.
Mahesh: It's not enough to know all the rules, you need to know how to apply the rules. That's where e-GMAT shines. I would not have been able to get into the 700 club without e-GMAT. Thanks to BB, I registered for SC course on e-gmat. Excellent course. If only I had a time machine and I could go back 2 months in time, I would have joined e-gmat SC course on day 1 of my preparation.
Jai Chandra Reddy: The live classes on Prethinking were amazing. The process of thinking yourself is amazing. If you take any other course, or read the book, you will take twice the time.
Payal's phone interview with Jai Chandra Reddy (GMATClub: icaniwill) GC Testimonial link: click here
Success Stories
e-gmat course has helped many acheive their dream score. Let us share a few success stories with you.
Vipul - VIPS0000 -
10 days to go- thanks to some really twisted questions posted without OAs by some members, my confidence was shaken and I looked for some more help in SC. Thanks to BB, I registered for SC course on e-gmat. Excellent course. If only I had a time machine and I could go back 2 months in time, I would have joined e-gmat SC course on day 1 of my preparation.
Pooja Jolie (GC: pjolie)

About e-gmat Verbal: At this time, I decided that I needed a prep course to boost my verbal. After considering Vertias, MGMAT and Kaplan, I decided on e-GMAT's live course because of its focus on verbal. This course took my preparation to the next level.
SC course: The SC concepts that I learned through MGMAT were crystal clear after going through this course. Two other things helped me a lot on SC. Firstly the fact that the course is very heavy on application. There are these application files that don't teach you anything but to apply what you have learned. Secondly, they have this OG solutions video course that is awesome. SC articles by Shraddha form egmat were really helpful too.
CR course: The CR course when combined with live sessions is really good too. It helped me weave through the logic of arguments and provided me an approach for most CR questions types. My accuracy just shot up. I would definitely recommend this course if you need help on verbal. This course played a major role in improving my verbal from 30 to 42.
Gurpreet Singh (GC: gurpreetsingh)
I joined E-gmat course and found it very useful. I saw improvement in verbal after e-gmat course. The live sessions of RAJAT on strategy and CR are awesome. Payal and Shraddha are no less than Stacy and Ron of MGMAT. No doubt no one knows more than these two experts of Mgmat, but sometimes I used to find their replies too technical to grasp. On the other hand - the lives sessions of Payal and Shraddha were awesome. Their articles and replies on the questions are fabulous. REALLY something that helps you to learn the concepts. I would highly recommend e-gmat for non natives, not only the course but also the replies and articles of its representatives.
Saurabh (GC:SOURH7WK)
I subscribed for e-gmat verbal live course and started once again my preparation for 4th attempt. After I subscribed to E-gmat course I realized my shortfalls in my verbal strategy. The course was very very helpful to bring up my V23 score to V40. And I would fully attribute my verbal success to e-gmat.
SC course: A ton of thanks to the ace teachers of e-gmat (Rajat, Payal & Shraddha) for putting up their efforts in this forum too. I got everything I needed to crack SC and RC (the RC strategy worked very well with me). Knowledge of sentence structure & attacking SC question by splitting the clauses was the key in improving on SC.