We will share the complete guide about Wharton Executive MBA program, where we'll discuss everything from the program, benefits, curriculum, application requirements, fees, deadlines, class profile, sponsorships, interview process, and a lot more.
But before that, we understand that applying to business school can be daunting for many applicants, especially if you are a first-time applicant. Searching for authentic information from the ocean of knowledge in the workforce can be difficult. We understand your position, which is why you can get our limited number of complimentary profile evaluations each week to make your application strong. Book a 1:1 profile evaluation session with our experts to understand how you can maximize your chances of getting into the Wharton Executive MBA program.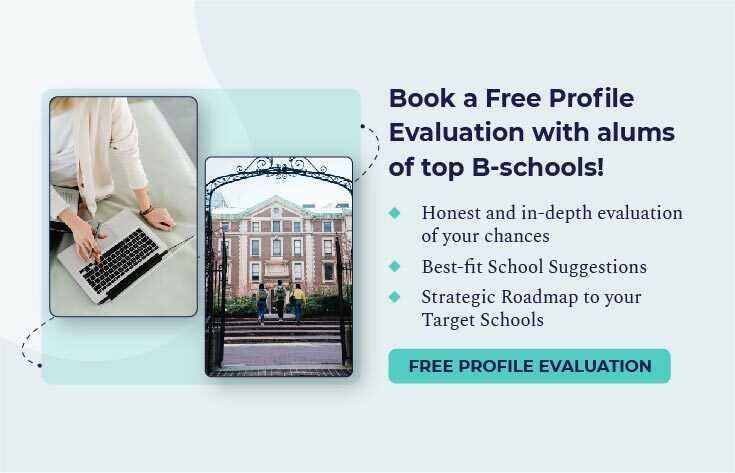 Quick Snapshot
Before jumping into the article, let's understand the basic difference between EMBA and vs. Full-time MBA.
Why Wharton?
The best reason to study here is the school's strong reputation worldwide. But you need more than this to decide, right? So If you want to learn business skills, fill the information gap with practical and theoretical knowledge, and enhance your leadership & entrepreneurial skills, then the Wharton EMBA program is designed where faculties will drive you with their expertise of knowledge from extensive years of knowledge.
"The evolution of the Wharton Executive MBA is a reflection of our entrepreneurial spirit and dedication to innovation in educational pedagogy," said Erika James, dean of the Wharton School.
The curriculum design is made according to the diversity they have worldwide so they can capitalize on their students' experiences and prepare them for the challenges they will face throughout their careers.
2) The Benefits of the Wharton EMBA Program
You can continue to work

You can parallelly apply your learning to your work

Your personal and professional network builds

EMBA accelerates your career

Build leadership and entrepreneurial skills

Facilitates immersive and diverse environment
3) Curriculum
Foundations of Teamwork and Leadership

Management Communication

Responsibility in Global Management

Microeconomics for Managers

Regression Analysis for Business

Managing the Productive Core of the Firm: Business Analytics

Business Foundations
You can learn more about the curriculum here.
Suggested Readings
4) Application Requirement
Applicants must submit an online application.

The application fee is $200.

The tuition fee is $223,500 for two years.

Sponsorship Letter

Two online Letters of Recommendation

Essay Questions

1) What are your career objectives, and how will the Wharton MBA Program for Executives contribute to your attainment of these objectives?

2) Research has shown a compelling business case for diversity, equity, and inclusion in organizations. Please respond to one of the following essay options:

a. Provide an example of how you created or advocated for a work environment where differences are valued, encouraged, and supported. What did you do? What was the outcome?

b. Describe an experience when you were part of an event/meeting/workplace that involved diverse perspectives. Include your contribution and what you learned.

3) If necessary, you may use this optional essay to explain any extenuating circumstances of which the Admissions Committee should be aware.
Test Scores

English Proficiency Test

Unofficial Transcripts
Suggested Readings
5) Reapplication Process
The school allows applicants to reapply if they applied and were not admitted. Students have to complete the application process again with essays and demonstrate what they have improved since you last applied, whether in the academic score, got promoted, are working on a new and exciting project, increased community involvement, new voluntary activity, or have taken on some personal challenge.
Reapplication Essay
What have you been doing since you previously applied for admission and what impact have your activities had on the clarification of your goals? Include any steps you have taken to enhance your preparation for admission to Wharton.
Sponsorships
https://executivemba.wharton.upenn.edu/emba-sponsorship/
DEADLINES
| Round | Application Deadline | Interview Invitations | Decision |
| --- | --- | --- | --- |
| 1 | October 12,2022 | November 16, 2022 | December 21, 2022 |
| 2 | January 18, 2023 | February 22, 2023 | March 22, 2023 |
Wharton EMBA Interview
We are so sure that with proper guidance, sincerity, and dedication, you will be able to reach this final step. But here is the twist, full-time MBA interviews can be done when the invitation is sent to you, but the Wharton EMBA interview is offered to all interested applicants.
The website allows you to schedule the interview even before starting your application. So you can prepare for your interview and build your confidence from the start only.
If you want to book a seat at Wharton EMBA Program. In that case, you must channel your energy in the right direction, deep dive into the overall development of your personality, and build skills that are likely to enhance your leadership skills, social impact, innovation, etc. If you want to know some success stories and talk to an expert or alums who have been through this journey and want great insights, then we have something for you.
Live event with admissions team/alums of top B-Schools!
We have organized a coffee chat with alums and the admissions team of top B-Schools that will prove to be a hallmark for you to learn the strategies we employ to facilitate our applicants in acing their MBA. In addition, this will be a golden opportunity for you to discuss your doubts with an expert and listen to other candidates to know more about your surroundings.