M7 vs. INSEAD- The ultimate battle!
Are you among the applicants waiting to get a final verdict on this? If you are confused about which geography to pick, whether the M7 in the US or INSEAD, this article will help you to compare M7 Business schools vs. INSEAD to get a clear understanding of post-MBA goals, ROI, Curriculum, advantages & disadvantages, and a lot more key insights to help you make just the right decision.
If you'd like personalized, honest, and in-depth feedback on your profile, feel free to book a 1:1 Profile evaluation with our profile experts (students and alums in the top 10 B-Schools)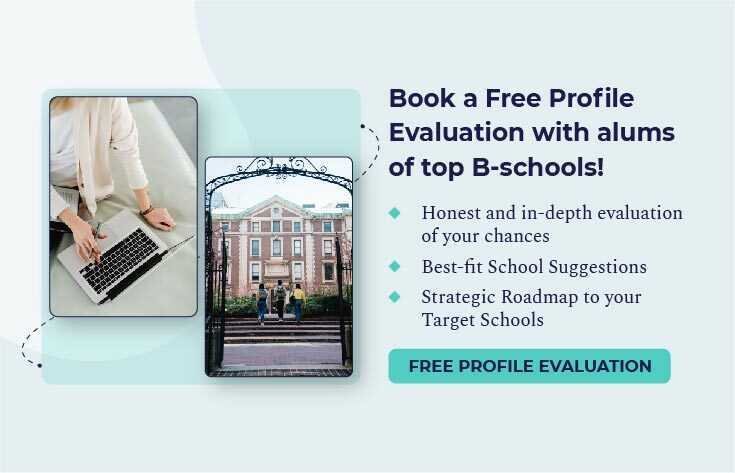 Quick Snapshot
1) Curriculum
One of the most important factors while considering the program is the curriculum. Suppose you are looking for overall subject development where the program focuses on business and strategically improves your core areas in each subject. In that case, a 2-year-long M7 program will best suit you.
Quick fact: Harvard alone offers over 3700 courses.

Join us in the upcoming coffee event with the admissions team to get some great tips for:

How to shortlist best-fit schools

How to create a unique application for M7 and other top schools

Live Q&A

Register here!

Just want to clear up the confusion; there is no substantial difference in the quality of education across the M7 schools and INSEAD, even though there is a history of debate. Our experts say the INSEAD MBA program is always wide awake, looking to fill the gap for improvement, and willing to take calculated challenges. At the same time, US schools are less likely to take them as they are already established for decades. M7 carries a legacy of top business schools worldwide, while INSEAD is known to bring global perspectives into your education. We will further discuss diversity as we head ahead.
However, if you're looking for high-quality business education in a shorter period of time where you want to widen your horizon and network adjacently, then a 10-month long program of INSEAD is the one for you. This program is designed with a unique mix of topics to support individual educational and professional goals. The course does not allow you to take any specialization, but they offer you a large number of electives. These electives cover all of the key managerial disciplines while focusing on the environment in which business takes place. During the curriculum, students work in groups of 5-6, where not more than 2 people of the same nationality are represented which shows how diverse their class is.
Quick fact: INSEAD business school conducts two different intakes - one in January and the other in September where aspiring candidates can submit their applications. Due to this dual intake, INSEAD's overall strength of the MBA cohort increases, which is why the school stretches more MBA degrees every year.
Suggested Readings-
1. You can learn more about the difference between the two intakes here
2. List and details of all the programs which have January intake
2) Academic Requirements for their programs
All M7 schools, as well as INSEAD have prestigious MBA programs and want their students to grow, build, enhance, and polish their skills and have the desire to give back to society with their leadership who can innovate, solve critical problems, can take risks, and have a strong opinion in the decision-making process.
In spite of having these similarities, the selection criteria for their programs are poles apart. Regarding M7, applicants must achieve much higher standards than those at other MBA programs. You must have strong academics (average GMAT 720 and GPA 3.6), excellent extraordinary activities and social impact, intellectual ability, leadership potential, curiosity to learn, and a dedication towards helping and growing with the community.
However, to ease the tension, INSEAD has a different approach to selecting its future class to ease the tension. The best advantage they give to students in the application process is academics. They are looking for candidates who have a good educational background and judge you on your test scores, as their objective is to analyze students' overall potential capabilities. However, the twist is if your GPA is good, you might get excused for a low GMAT and vice-versa. But if you have both these scores at the lower end, you may still apply, and if your overall profile is strong and they find you a good fit for INSEAD, they will simply ask you for another attempt. Yes, as opposed to M7, INSEAD encourages applicants to apply despite low scores and emphasizes your overall personality and professional experience. Their objective is to motivate students to apply and not restrict themselves because of their scores.
Suggested Readings
But INSEAD is very particular about other requirements. Let's say experience; it doesn't matter if you have 2 years or 8 years of experience; what really matters to them is how positive impact you have created in your company. They look into work experience to assess your potential and to see that you have the leadership capability to contribute to yourself, your team, and your organization. So, you must connect each experiential dot logically and bring "collinearity" to your application.
If you want to know your chances of getting into M7 or INSEAD and desire to get a seat in your dream college, then a piece of expert advice will be as worthful just like your career in these top schools. If you'd like personalized, honest, and in-depth feedback on your profile and essays, feel free to book a 1:1 Profile evaluation with our profile experts (students and alums in the top 10 B-Schools).

BOOK A 1:1 PROFILE EVALUATION SESSION

3) AGE
If you are in your early-mid 20s and have limited work experience (3-4 years), then you are a better fit for M7 schools as their 2-year programs will give a holistic development in each area so that you can use your learnings (both theoretical and experimental) to get the career leap you expect post MBA.
On the other side, if you have an experience of more than 6-7 years and/or are looking for a major career shift, then INSEAD is a better fit for you as its 10-month program allows you to explore your strengths and widen your knowledge in different domains.
Quick Fact-, Every 4th student in the INSEAD MBA cohort usually joins an MBA program to switch careers, as reported by INSEAD in their employment statistics.
Suggested Readings
4) Location and Diversity
The location of the school has a strong impact on the quality of experience during your MBA, life, career opportunities, and the growth you encounter. It's the journey that creates value and impacts your life, not just a degree. Also, before starting with your application, sit with your mentor and parents and have an in-depth discussion about your city switch, as there are various factors that will complement your degree, like legal procedures, cost of living, opportunities, career advancement, and much more.
You don't just switch cities but also switch culture, morals, values, backgrounds, ideas, perspectives, and a lot more transitions. This is because you interact with a diverse set of people around the globe and share emotions and stories. Whether applying to M7 or INSEAD, you need to showcase how diverse your thought, vision, and motive can bring and enhance the school's environment.
Learn more about your target schools' values, culture, and community.
If you want a life where you can work in an international setup, then we suggest INSEAD (the school has campuses in three different locations, i.e., INSEAD MBA Paris, France, Singapore, and UAE) and will offer you the best environment that will suit you. They have a very strong reason for being referred to as the 'business school of the world'- 'Diversity'. It is the heart of the school as they proudly stand when it comes to the most diverse class.
Quick fact: students come from 90 odd nationalities as well as their faculties are diverse, with 145 members from 37 different countries. They want their students to bring their culture and share their language, gender, professional backgrounds, and flavor of ideas into the classroom.
However, when we compare it to M7 diversity, the school culture is dominated by the domestic community. The acceptance rate of different nationalities is less compared to INSEAD. So, beyond the cost of living, goals, and other factors- if global networking is one of your goals, then INSEAD will be a much better fit for you.
Suggested Readings
5) Post-MBA Goals
Another important factor that both schools want to know is where you want to head after your MBA. Your application should reflect how feasible your goals are for the career you mentioned in your essays. Every school's curriculum is different, and so are its goals.
If you want to get experience after studying the core areas and have theoretical learning about the business market, then M7 will guide and help you to enlighten your journey. But before that, you must elaborate on your motives and vision of why you want to pursue that direction or field. Their faculties have extensive years of experience and have a solid network in corporate, so they will share the experience with you according to your goals.

Let's hear your story and create a unique MBA pitch for your target schools!
Book a profile Evaluation call!

However, If your goal is to work in Europe, then doing MBA from INSEAD will make much more sense, but let us tell you, it isn't widely recognized as besides campus recruitment, the benefits of doing an MBA in INSEAD are smaller than in the M7. But if you have a degree from M7, then you have a better chance of getting into a highly valued company in Europe, as every well-respected US university will always come with prestige and branded company.
But if you are planning to work in the US, then there are various factors you should consider. During employment post MBA, employers will have some biases in the selection of a candidate
6) Suitability
Suitability is understanding your 'fit' to a school in terms of profile (i.e., Age, GMAT/GRE, etc.), curriculum, values, and goals. We have already discussed all of these points at length, and by now, you might have gauged whether you are a good fit for M7 schools or INSEAD.
INSEAD highly emphasizes international experience and having a global perspective on your goals. Whereas M7 emphasizes strong academics and quantifiable impact in your work experience (Please note that it also differs from school to school among M7 schools as well). So, understanding your fit and communicating it in terms of your academics, work experience, international exposure, extracurriculars, post-MBA goals, and personality will play a huge role in your candidature. .
To help you create a strong application, be a part of our coffee chat which we do every alternate week, where you can have a chance to talk to alums of top B-schools and clear all your doubts and know your future classmates!
Quick Fact- For INSEAD, applicants must have the potential to create a global impact through their endeavors, and it should reflect in your MBA application. Also, INSEAD believes in and follows the foundation they have established in giving back to the community. If you are able to answer how you're going to contribute to their community, then you are already making a strong case for your candidature. Also, they look for a candidate who has international experience and not just visiting a place but being immersed in another culture, impacted by a foreign workforce, speaking another language, etc.
Suggested Reading
7) Monetary Value and ROI
Now, let's discuss the financials! Both schools are in different regions with different costs of living. So, according to spending capacity and opportunities to avail, an applicant should decide which direction to go.
The tuition fee for INSEAD is $107,090. However, tuition isn't the only expense you'll have to deal with while pursuing your 10-month course at INSEAD business school. Expenses like accommodation, transportation, food, and so much more can add up to the overall expenditure of Insead MBA tuition to $140,000. The average salary post-MBA at INSEAD is $104,500, and an average sign-on bonus of $25,000. INSEAD offers more than 100 internal scholarships, with the total amount of scholarships averaging a substantial amount equal to approx. $22,300. Click here to learn about INSEAD MBA Fees!

Want to know your chances at INSEAD? Book a 1:1 profile evaluation with alums and students of INSEAD!

Now, talking about M7, here is the list of tuition fees and average salary.
| M7 Business School | Tuition Fees | Average Salary |
| --- | --- | --- |
| Harvard School of Business | $146,880 | $210,000 |
| Stanford Graduate School of Business | $146,124 | $222,000 |
| Wharton School at University of Pennsylvania | $162,756 | $211,000 |
| University of Chicago's Booth School of Business | $144,000 | $191,679 |
| MIT Sloan School of Management | $154,336 | $197,177 |
| Northwestern University's Kellogg School of Management | $146,808 | $141,576 |
| Columbia Business School | $154,752 | $202,238 |
Suggested Readings
With this, we end this article, quite a long one, right? But very insightful! We have covered almost everything (also provided needful links) so that you can differentiate M7 vs. INSEAD. But we suggest you do your due diligence to understand yourself and the business schools you are targeting, keeping the factors that we mentioned in mind, and make a logical decision.
1:1 Profile Evaluation with alums and students of your target schools-
We offer a limited number of complimentary profile evaluations each week to maximize your chances. We match you with the students and alums of top B-Schools according to your background and target schools. In this call, the experts will try to dig out your USP for top B-schools and provide you with honest feedback on your profile and chances to your target schools