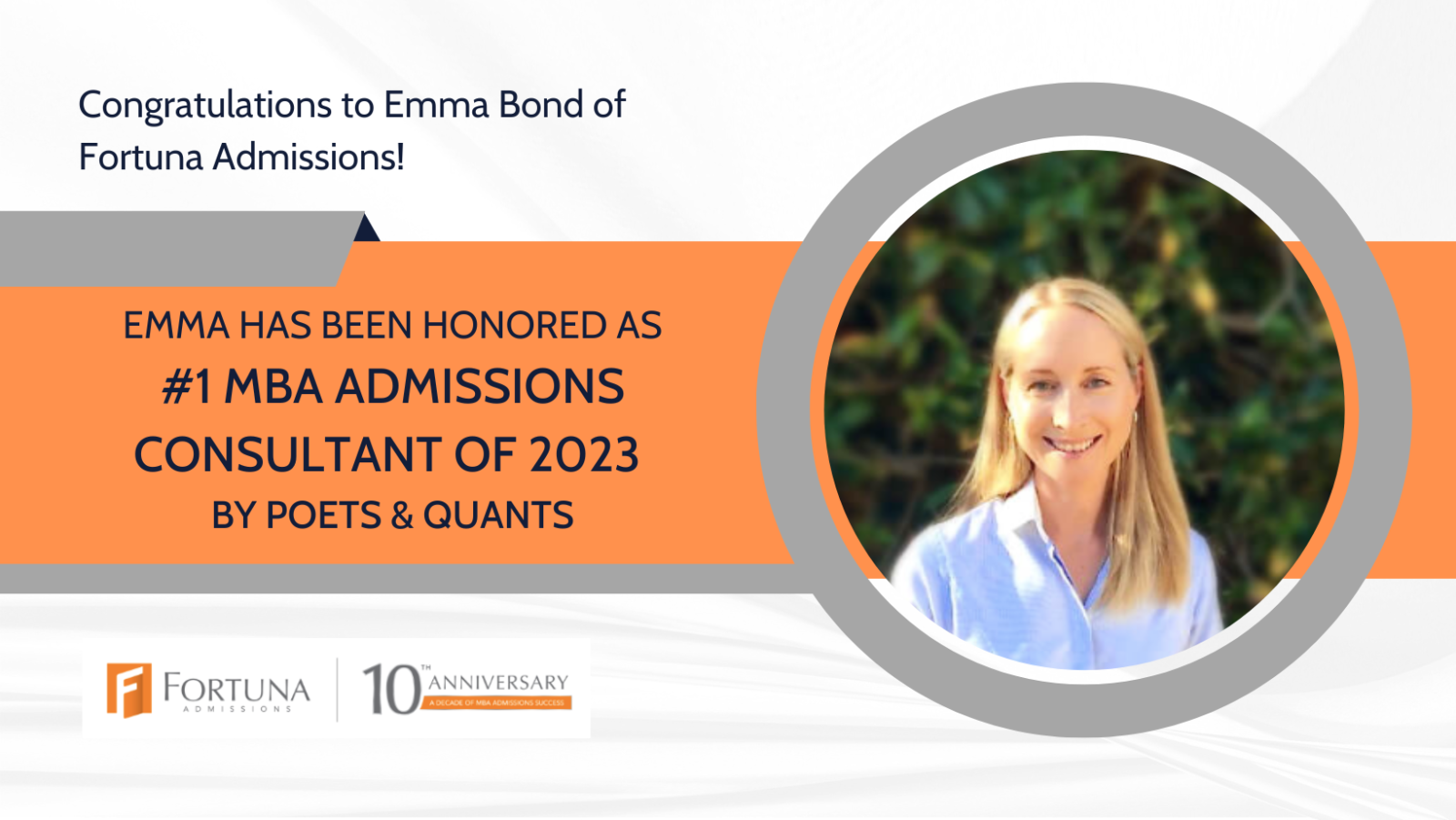 At Fortuna we are sure we have the best MBA coaches in the world. Now we have the rankings to back up that claim. 
Fortuna director Emma Bond was named the top MBA consultant in Poets&Quants' 2023 ranking. "She has racked up more perfect 10.0 satisfaction ratings over 25 clients during the course of our review than any other consultant in the world," wrote P&Q's John A. Byrne and Heather Soderquist in the April 19 announcement. 
Also ranking in the top are Fortuna's Karla Cohen, Sharon Joyce, Jenifer Raver, and Heidi Hillis. With five consultants scoring in the top 34, Fortuna comes out as the second most represented firm.
The Poets&Quants consultant ranking is based entirely on client reviews logged between Sept. 1, 2021, and Aug. 31, 2022. Reviews are independently verified with both the client and consultant. Only reviews following consulting engagements for MBA admissions are counted. A  net promoter score is included to ensure that the ratings judge quality of services, not just quantity. 
This year P&Q included consultants who had received 10 positive reviews, reduced from 15 in the past, to give applicants assessments of a wider pool. That expanded the previous Top 20 list to a set of 39 ranked coaches.
Bond said she was speechless at the news — "and pretty happy," she added. "This would just 100% not be possible without the help and insights from so many amazing colleagues across the Fortuna team."
Bond has successfully coached candidates admitted to virtually all the top MBA programs in the UK and the US as well as master's programs in management and finance.
A former Senior Manager of MBA Admissions at London Business School, she has reviewed thousands of applications while selecting the full-time class there. She also has recruited talent for Boston Consulting Group's global enterprises. These experiences make her an expert interview coach and an excellent judge of the fit between a candidate and an institution or firm. 
At Fortuna, we're thrilled with this recognition, but not surprised. At Fortuna, she has expertly coached applicants who won admission to virtually all the top European and American business schools. She has scored perfect 10 satisfaction ratings in P&Q's annual rankings for three consecutive years.
"Emma has been nothing less than phenomenal to work with on my MBA application journey. I consider myself to be a bit of an odd bird in the applicant pool since I have a varied professional background. Emma's creative storytelling ability, but also the pragmatism with which she pointed out the most salient parts of my experience allowed me to pull everything together and create an intriguing, coherent storyline."
Class of 2025 LBS Admit
Her Secret Sauce
Bond invests the time to really get to know her clients and build a foundation of mutual trust. That's the not-so-secret ingredient to her success, she told P&Q. "It's my ability to connect and empathize with my clients," she said. Once that trust is established, clients open up and share more of their story. "When you have that relationship established, you have the basis for putting together a really strong application."
Bond remains engaged and involved with LBS and regularly serves as a Kira reviewer for Imperial College Business School programs, so her knowledge of what b-schools are looking for remains fresh.
Clients also benefit from Bond's long experience as a coach. "Emma has been with us right from the start" when Fortuna was launched a decade ago, says Founder and Director Caroline Diarte Edwards. That longevity is common at Fortuna and provides a continuity of expertise over the years that sets our consulting services apart.
"What she really excels at is understanding which parts of an applicant's character, work experience, and extra-curricular appeal to the folks sitting in the admissions office at the absolute top-notch international b-schools. With the dexterity of a well-seasoned surgeon, she cut into my character to understand which parts of the story can be tailored to craft the perfect reapplication and stand out."
Class of 2024 Admit to three schools
Our five top-scoring coaches are terrific, but they are not alone in providing caring, responsive, and effective coaching and winning glowing accolades from satisfied clients. Almost three-quarters of Fortuna's coaches earned a net promoter score of 9 or 10. "This is a testimony to Fortuna's collaborative approach and proven methodology that allows so many of our coaches to excel and our clients to succeed," said Expert Coach Heidi Hillis. 
Founder Diarte Edwards agrees: "Our collaborative approach at Fortuna definitely sets us apart from many of our competitors.Our coaches do not work in isolation but instead have access to the tremendous breadth and depth of expertise of the whole team. I often talk about how useful I find it to crowdsource additional opinions from fellow experts across the team and what an incredible hive brain we have."
The post Emma Bond is #1; Four More Coaches Top Poets&Quants MBA Consultant Rankings first appeared on Fortuna.
The post Emma Bond is #1; Four More Coaches Top Poets&Quants MBA Consultant Rankings appeared first on Fortuna.